NEW CAPSULE COLLECTION TO HONOR 25 YEARS OF RODGERS & HAMMERSTEIN'S CINDERELLA (1997)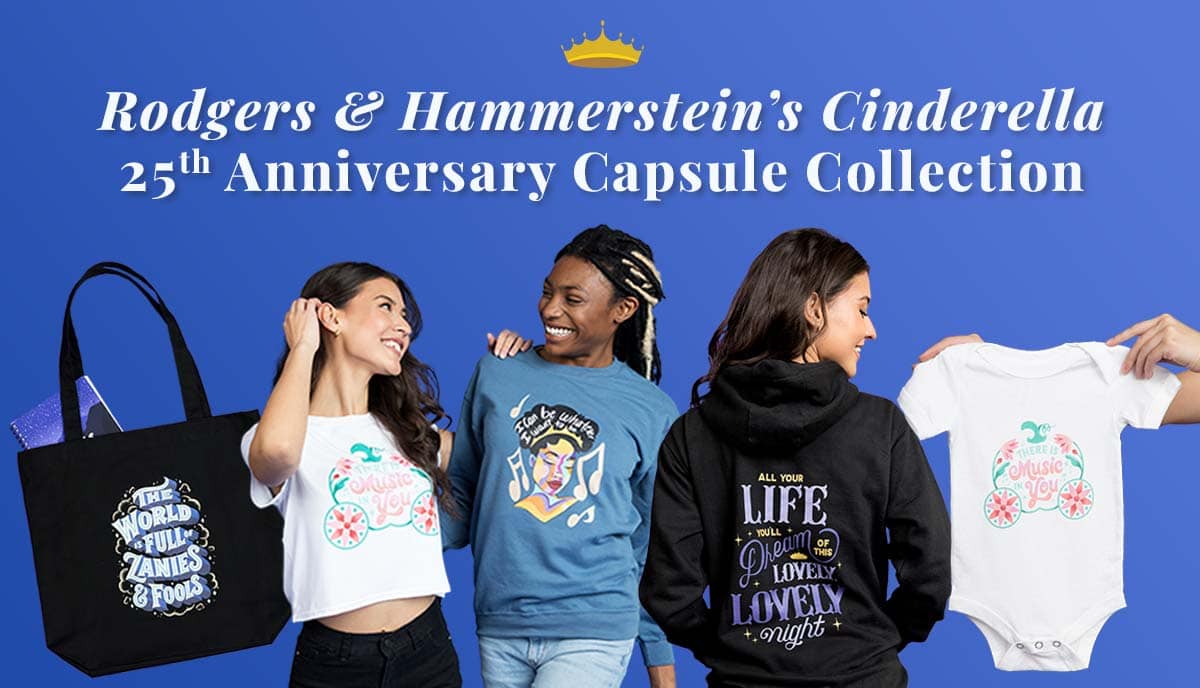 LIMITED-EDITION CAPSULE COLLECTION 
IN HONOR OF THE 25TH ANNIVERSARY OF
"RODGERS & HAMMERSTEIN'S CINDERELLA" 
NOW AVAILABLE 
ALL NET PROCEEDS TO BENEFIT
KEKE PALMER'S "SAVING OUR CINDERELLAS"
A PROGRAM FROM NON-PROFIT SAVING OUR DAUGHTERS
PHOTOS OF COLLECTION AVAILABLE HERE
New York, NY (November 2, 2022) – Today Concord Theatricals and The Rodgers & Hammerstein Organization announced the release of a limited-edition capsule collection to celebrate the 25th anniversary of the groundbreaking 1997 film Rodgers & Hammerstein's Cinderella, starring Brandy and Whitney Houston. The vibrant merchandise collection of wearable art pieces features five of the most iconic lyrics from the musical and was created by five female artists, typographers, and designers. The full collection can be purchased now at https://shop.rodgersandhammerstein.com. 
Images of the limited-edition merchandise can be downloaded HERE (Credit: Courtesy of The Rodgers & Hammerstein Organization). 
All net proceeds from sales of the collection will benefit Saving Our Cinderellas. Co-founded by Keke Palmer, who was the first Black actress to star as Cinderella on Broadway, Saving Our Cinderellas works to instill confidence and leadership in young women of color through the arts. The program is part of the non-profit organization Saving Our Daughters. More information about the organization can be found HERE.
Ashley "Pinklomein" Price, Jess Miller, Lauren Hom, Natalie Brown and Shae Anthony are the five chosen artists for the collaboration, and each was selected to illustrate a different Rodgers & Hammerstein song lyric – including "I can be whatever I want to be," "There is music in you" and "Impossible things are happ'ning every day!"
"Rodgers & Hammerstein's Cinderella taught me that dreams really do come true! This version of Cinderella was bold and daring and brought joy to my soul," said Ashley "Pinklomein" Price. "The inspiration behind the piece I created was to grasp the vivid and musical aspect of the film into a beautiful woman who, like Cinderella, has dreams and can be whatever she wants to be." Price's piece can be previewed HERE. 
"I vividly remember watching the movie when it premiered in 1997 – and loving the costumes, the sets and of course the music!" said Jess Miller. "I hand lettered the lyrics 'There is Music in You' with a classic pumpkin carriage to honor Whitney Houston's Fairy Godmother. I hope this art spreads some cheer, positivity and nostalgia, just like the movie." Miller's contribution to the capsule collection can be viewed HERE. 
"I drew inspiration for my design from the color, whimsy and magic I remembered seeing (and feeling!) in Rodgers & Hammerstein's Cinderella," said Lauren Hom. "Never in a million years would the younger me have believed she'd be asked to design something for the 25th anniversary when she grew up!" Hom's design can be seen HERE. 
"My inspiration came from my experience watching the film as a young girl," said Natalie Brown. "My sisters and I used to huddle around Rodgers & Hammerstein's Cinderella on television. We were so in awe of Cinderella – so it was pretty amazing to get to be a part of this project many years later!" Brown's piece for the collection is HERE. 
"Seemingly impossible things like our goals, hopes and dreams can feel so unattainable at times," said Shae Anthony. "These lyrics reminded me that everyone has their own path and that while it may feel challenging and at some times out of reach, it can be done! Like the figures climbing the mountain to reach the stars, we are all at different points on our journey. But like the stars in the sky there's plenty for everyone. We can all reach them even when it feels impossible." Anthony's design for the collection can be found HERE. 
The launch of the capsule collection follows the release of ABC News Studios' "Cinderella: The Reunion, A Special Edition of 20/20" in August 2022. The 25th anniversary celebration of Rodgers & Hammerstein's Cinderella featured members of its all-star cast – Brandy, Whoopi Goldberg, Paolo Montalban, Victor Garber, Bernadette Peters, Jason Alexander and Veanne Cox – and was followed by an airing of Rodgers & Hammerstein's Cinderella for the first time on broadcast television in more than two decades. Both the 20/20 special and the 1997 film can be watched now on Disney+. 
BIOGRAPHIES
About Rodgers & Hammerstein's Cinderella
Rodgers & Hammerstein's Cinderella (1997) stars Brandy in the title role and Whitney Houston as Fairy Godmother alongside Whoopi Goldberg, Victor Garber, Natalie Desselle Reid, Bernadette Peters, Paolo Montalban, Jason Alexander, and Veanne Cox. 
Originally premiering on November 2, 1997, to 60 million viewers on ABC's The Wonderful World of Disney, Rodgers & Hammerstein's Cinderella became an instant fan favorite, acclaimed by critics and audiences alike and earning seven Emmy® Award nominations. Celebrated for its diverse representation, sweeping musical acts and unforgettable songbook, the 1997 film features an incredible array of beloved and original songs by the iconic songwriting duo Rodgers & Hammerstein, including "Impossible," "In My Own Little Corner," "Ten Minutes Ago," "A Lovely Night," "Do I Love You Because You're Beautiful?" and more. 
The televised movie musical debuted on Disney+ in February 2021. 
In Rodgers & Hammerstein's Cinderella, when Cinderella's cruel stepmother prevents her from attending the Royal Ball, she gets some unexpected help from her Fairy Godmother. The 1997 movie was directed by Robert Iscove, written by Robert I. Freedman, and choreographed by Rob Marshall. Whitney Houston, Debra Martin Chase, Craig Zadan and Neil Meron served as Executive Producers. Chris Montan was a producer, and Robyn Crawford was an associate producer. 
Rodgers & Hammerstein's Cinderella was originally presented on television in 1957, and was the only musical written by Richard Rodgers and Oscar Hammerstein II for the medium. Starring a 21-year-old Julie Andrews, Rodgers & Hammerstein's Cinderella was the most widely viewed program in the history of the medium at the time, drawing an astonishing 107 million viewers. Its recreation in 1965 starring Lesley Ann Warren was no less successful in transporting a new generation to the miraculous kingdom of dreams come true, and so was the second remake in 1997. A new Broadway version with a Tony-nominated book by Douglas Carter Beane premiered in 2013. 
Learn more about Rodgers & Hammerstein's Cinderella by visiting https://rodgersandhammerstein.com/cinderella. 
www.facebook.com/cinderellamusical
www.instagram.com/cinderellamusical

About Richard Rodgers & Oscar Hammerstein II
After long and highly distinguished careers with other collaborators, Richard Rodgers (Composer, 1902-79) and Oscar Hammerstein II (Librettist/Lyricist, 1895-1960) joined forces in 1943 to create the most successful partnership in American Musical Theatre. Prior to joining forces, Rodgers collaborated with lyricist Lorenz Hart on musical comedies that epitomized wit and sophistication (Pal Joey, On Your Toes, Babes In Arms, and more), while Hammerstein brought new life to operetta and created the classic Show Boat with Jerome Kern. Oklahoma!, the first Rodgers & Hammerstein musical, introduced an integrated form that became known as "the musical play." Their shows that followed included Carousel, South Pacific, The King and I, and The Sound of Music. Collectively, the Rodgers & Hammerstein musicals have earned Tony, Oscar, Grammy, Emmy, Pulitzer, and Olivier Awards. The Rodgers & Hammerstein Organization is a Concord Company, www.concord.com.
www.facebook.com/rodgersandhammerstein
www.instagram.com/rodgersandhammerstein
www.youtube.com/user/rodgershammerstein
www.tiktok.com/@rodgersandhammerstein
About Saving Our Daughters & Saving Our Cinderellas
The non-profit organization Saving Our Daughters was founded with the mission of supporting adolescent girls of color in overcoming social barriers such as bullying, dating violence and low self-esteem – and works to integrate that mission into dynamic programming for participants across the country. Saving Our Cinderellas, a special sector of programming within Saving Our Daughters, was co-founded by esteemed actress, singer, and talk show host Keke Palmer.
Saving Our Daughters took on a deeper meaning in 2009, when founders Debbie and Curtis Benjamin's youngest daughter, Iliss Marie, was diagnosed with a malignant brain tumor. In 2011, she sadly lost her battle to cancer at the age of 12. Since 2014, the engine of Debbie and Curtis' work is fueled by the devastating loss of their daughter.
In 2014, while performing on Broadway in Rodgers & Hammerstein's Cinderella, Keke Palmer invited underprivileged girls from the Bronx and Queens, New York to attend the Broadway musical. Keke was the first Black actress to star as Cinderella on Broadway. This opportunity for a group of girls to watch their first Broadway musical, with Keke in the leading role as the iconic Cinderella, was an incredible experience that jumpstarted a new program called Saving Our Cinderellas. This program focuses on reaching girls from multicultural backgrounds, using the arts to integrate values of confidence and leadership and deter the negative effects of low-self-esteem and self-identity.
Using celebrity role models as mentors to educate girls beyond the limitations of the traditional classroom, Saving Our Daughters also introduces participants to national opportunities in the arts, including integrating programming with film, television and theater. For more information, visit savingourdaughters.org.