---
2002 Broadway Revival Version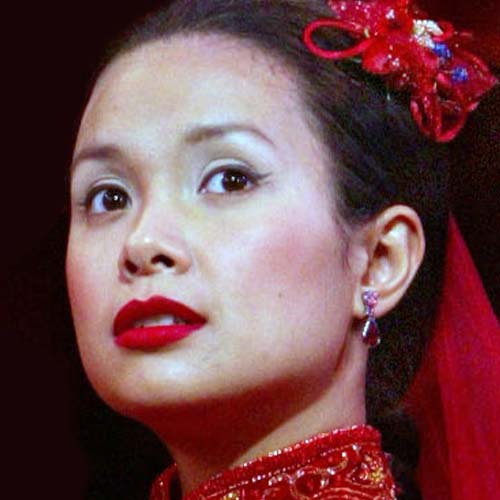 MEI LI
A new immigrant from China, Wu Mei-Li treasures her flower drum, a memory of her dear father. Traditional and modest, but strong-willed and determined, she is fascinated by Linda and Ta and their American ways. She falls for Ta and gradually becomes more acclimated to American customs while maintaining respect for her past. When Ta rejects her affections, Mei-Li bitterly closes her heart and plans to return to China with Chao.
Wang Chi-Yang/Sammy Fong
A Chinese opera actor and immigrant to San Francisco, Wang Chi-Yang runs the Golden Pearl Theater in Chinatown. The oldest friend of Mei-Li's father, Wang lost his wife on their journey to the U.S. and has raised his son alone. Though he first clings to his mission to perform traditional Chinese opera, he later embraces the razzle-dazzle of American show biz, renaming the theater "Club Chop Suey" and performing as "Sammy Fong."
Wang Ta
Wang's Chinese American son, now in his twenties, Ta has been performing in his father's Chinese opera for years in traditional women's roles. Infatuated with Linda Low, he nonetheless finds himself smitten by Mei-Li's beauty and honesty. Still, he keeps his distance, and nearly loses the great love of his life. Despite conflict with his father, Ta is a loyal son and a good man.
Linda Low
A Chinese American showgirl, Linda is a fiery, confident American who embraces her femininity and sex appeal as sources of power. A knockout performer, she incorporates Mei-Li's ideas into her act and wows the audience with her smoky, sexy "Fan Tan Fannie" number. Savvy in matters of the heart, she helps Mei-Li and Ta find romance.
Madam Rita Liang
A Chinese American talent agent, Rita Liang is an ambitious businesswoman with a big personality. She has a vision to transform Golden Pearl into the hottest nightspot in Chinatown, and later to franchise the clubs all over the country. Strong and independent, she is wary of pursuing a relationship with Sammy Fong, despite their mutual attraction.
Chin
An old family friend of the Wangs, Chin is a wise Chinese man in his sixties. He is amused by Linda and Ta's new approach to Nightclub Night, and helps guide Ta toward true happiness with Mei-Li.
---
Harvard: A young Chinese American man, Harvard is so eager to perform at Club Chop Suey that he agrees to make costumes in exchange for a featured spot. Unfortunately, he's not quite talented enough to pull off the big sailor number.
Chao Hai-Lung: A new immigrant from China, Chao met Mei-Li on their trip overseas. After getting a job in a fortune cookie factory, he pursues Mei-Li romantically, asking her to return to China with him.
Mr. Chong: The Chinese American owner of the On Leock Fortune Cookie Factory.
Mr. Lee: A Chinese American restaurant owner.