---
Cap'n Andy Hawks
Proprietor and Captain of the Cotton Blossom, Andy Hawks is a showman. He is father to Magnolia, whom he loves very much, and dedicated husband to Parthy, about whom he has a lot to say. He provides the center of the story; the life of the showboat and its inhabitants all revolve around him, and Cap'n Andy considers his colleagues on the Cotton Blossom his family.
Magnolia Hawks
The daughter of Captain Andy and Parthy Hawks, Magnolia is a naive but ambitious young woman who has been brought up on the Cotton Blossom. She plays music for her father's melodramas and longs to become an actress. Her dream is to be a leading lady, and that happens when her good friend Julie is forced to leave. When she unexpectedly falls in love at first sight with Gaylord Ravenal, her life starts to focus. Despite the objections of her mother Parthy, she marries Ravenal and they take off for what looks like a good life. But since he is a gambler, their life quickly beings to fall apart. Her friends Frank and Ellie help her get back on her feet, and she proves herself a resilient woman with an undying passion for performing.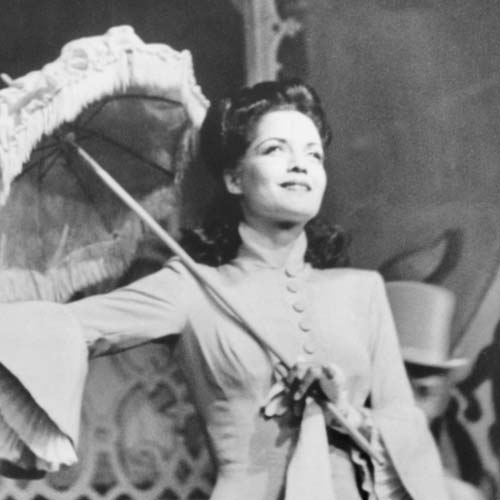 Julie LaVerne
The "Sweetheart of the South," Julie is the Cotton Blossom's leading lady, married to the show's leading man, Steve Baker.
Julie's mother was
Black
, making their marriage illegal in the eyes of the
state, so Julie and Steve
are forced off the Cotton Blossom. As the years pass, she falls on hard times, but after auditioning for a show at the Trocadero, she has an opportunity to help Magnolia, whom she regards as a younger sister.
Gaylord Ravenal
A handsome stranger who arrives one day when the Cotton Blossom is in town, Ravenal falls instantly for Magnolia. He is roped into being the showboat's leading man, for which he is clearly unprepared. Despite his checkered past as a known gambler along the river towns, he marries Magnolia, but their life together falls victim to his gambling ways. They separate but, thanks to the connection formed by their daughter Kim, ultimately reconcile at the final curtain.
Queenie
A beloved figure of the Cotton Blossom, Queenie manages the kitchen aboard the showboat. Confident, independent and strong, she's nevertheless Joe's gal, and over the years, their devotion to each other remains steady, despite their frequent bickering.
Joe
Queenie's husband, Joe works on the Cotton Blossom doing physical labor on the dock and helping with the show as a trusted, reflective confidant. Proud, strong and poetic, Joe sings the musical's stirring anthem, "Ol' Man River."
Ellie Mae Shipley
"The toast of Cairo, Illinois," Ellie is a dancer/singer who plays the supporting lady and song-and-dance gal on the Cotton Blossom. Though she dismisses his advances at first, Ellie eventually marries Frank Schultz, and the two of them go on to have successful careers in Hollywood.
Frank Shultz
Though Frank plays the villain in the Cotton Blossom's play, he's introduced as being "as meek as a lamb and wouldn't hurt a fly." He's been in love with Ellie since they met, and eventually marries her. Later, he and Ellie compassionately help Magnolia find a job when she falls on hard times.
Parthy Hawks
The fiercely protective mother of Magnolia and stern New England-born wife of Cap'n Andy, Parthy Hawks doesn't like show business and suffers no fools or dissent. Though she is stern at times, her love comes through in her care and concern for her daughter and grandchild, whom she loves very much.
Steve Baker
"The most handsomest fella in the Midwest," Steve Baker is the leading man aboard the Cotton Blossom, and plays opposite his wife, Julie LaVerne. He loves Julie very much and tries to spare them from being discovered. He fails, and they leave the boat for an unsuccessful new life.
---
Pete: A disreputable employee of the Cotton Blossom, Pete has a disconcertingly intense admiration for Julie.
Kim: Magnolia and Gaylord Ravenal's daughter, Kim follows her mother's footsteps and becomes a Broadway star.